North East
NORTH EAST | New England and Eastern United States
Burke Hollow, Vermont 1973
First Tuesday annual Town Meeting in town hall of village of Burke Hollow, Vermont on March 6, 1973. At start of meeting Theron Morse, presiding officer, holds the American Flag while the selectmen on the stage and audience recite the Pledge of Allegiance to the United States. Town Meeting in Vermont is pure participatory Democracy as legislation for the municipality is determined by voting in a plebiscite. Town Meeting Day is state holiday in Vermont on First Tuesday of March each year. An antique painted curtain is suspended above the quaint stage in a nostalgic and patriotic New England scene.
Pittsfield, Vermont 1973
Interior of a sugar shack while maple sap is boiled to create maple syrup in Pittsfield, Vermont. The heat processing and boiling produces water vapor fog and reduces the light sap to heavy syrup used as a sweet condiment. The fog escapes through the porous clapboard walls. Collecting sap and boiling syrup are traditional spring activities in Yankee New England. Man on left is Charlie Colton and young man is Ray Colton. This shack is 150 years old and the heat is from a wood stove converted to gas.
Putney, Vermont 1973
Elderly retired New England Yankee raking the autumn leaves in his yard in Putney, Vermont. Howard E. Farrington is an 85 years old Yankee senior citizen and retired from being a farmer and a gardener to home in this rural village. Fall leaves keep him busy all autumn.
Salem, Massachusetts 1978
Workmen sorting and stacking animal hides that are being processed at an old tannery in Salem, Massachusetts on October 30, 1978. The hides are tanned into leather and dyed at the tannery. The industrial process requires much heat and the factory is filled with steam and water vapor. Tanning was a significant industry on the North Shore when the area supported many factories to make shoes and other leather goods.
Vermont, 1973
Dairy cows livestock in a farm pen outside a barn in Topsham, Vermont. The damp weather is grey with drizzle and light rain. Laundry dries on a line above the cattle.
Burlington, Vermont 1973
factory mill was a third generation family enterprise in woodworking to make hardwood spools for the weaving and textile industry but closed in the 1970s as demand for wood industrial spools and bobbins declined. The handsome but obsolete turned spools became collectors items and sometimes sold as antiques.
Burlington, Vermont 1973
Soiled hands and fingers of a man who works as an engineer in a maintenance shop in St. Albans, Vermont. The mechanic repairs locomotives for the Central Vermont Railroad and his strong hands get dirty with grease, grime, dirt, and oil. He wears overalls as he describes an injury to a finger that is common in his industry.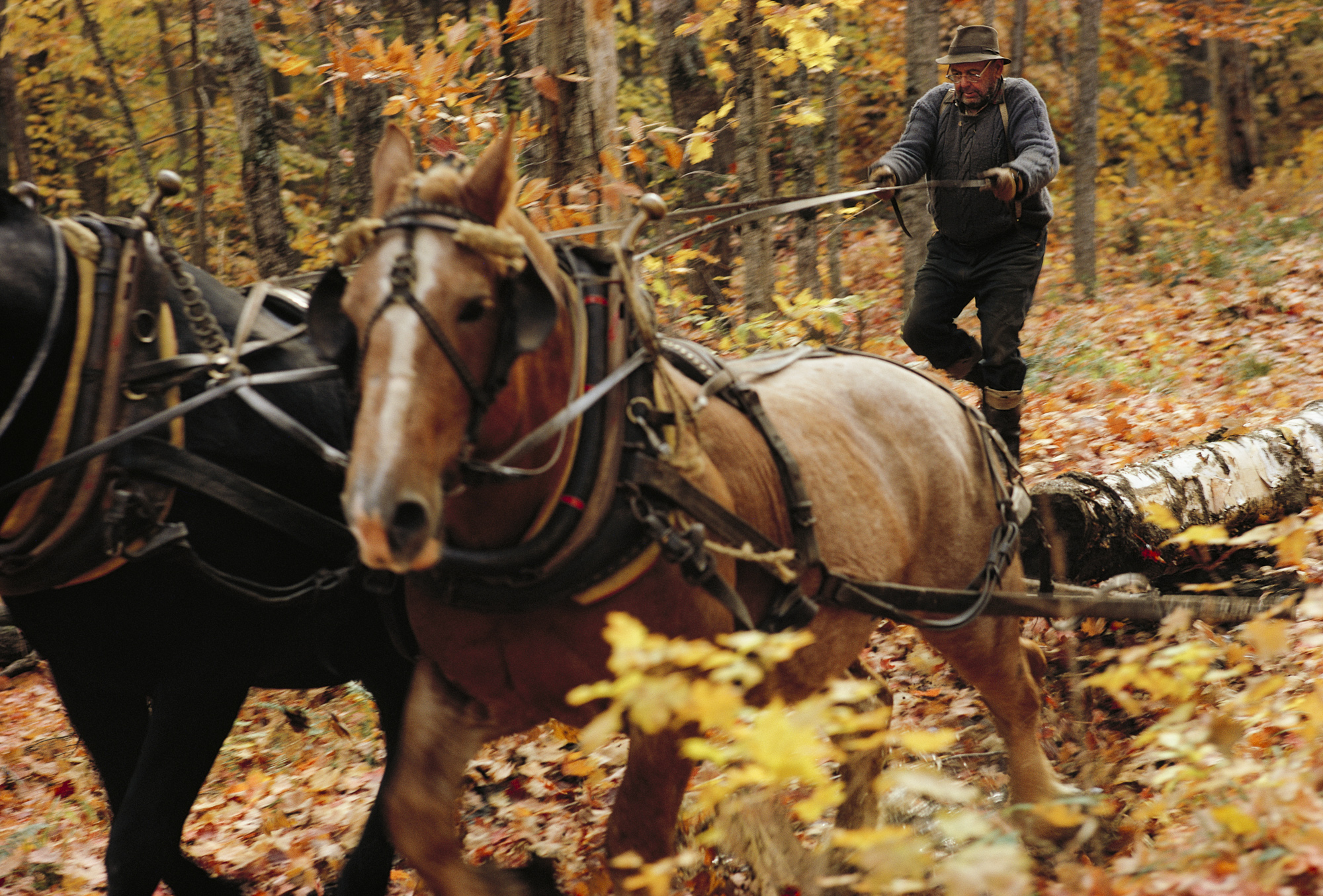 Lyndonville, Vermont 1973
Yankee man who works as a logger in Lyndonville, Vermont transporting logs in an autumn foliage forest behind a pair of horses on October 12, 1973. Chester Grimes is a woodsman who practices selective logging forestry method, that selects trees that are good for harvesting for timber. The autumn foliage provides a carpet of golden fall leaves on the floor of the forest. Most loggers use machine skidders for logging operations but horses are more environmentally friendly and the old horse methods are neater.
Talbot County, Maryland 1982
Mrs. Morgan B. Schiller, (nee Elizabeth Key Lloyd), matriarch of Wye House in Talbot County, Maryland is a descendent of planter and 'Patriot' Edward Lloyd IV. Wye House, started in 1781, was built for Lloyd IV, a delegate from Maryland to the Continental Congress. When Edward Lloyd IV built Wye House, he owned 261 slaves 12,000 acres of land, and 215,000 pounds of tobacco. Mrs. Schiller, Lloyd's direct descendant, died in 1993.
Wenham, Massachusetts 1978
Neil Rice Ayer, Master of Foxhounds of the Myopia Hunt, in the parlor of his mother's house at Ledyard Farm, Wenham, Massachusetts. Mr. Ayer is wearing the brilliant scarlet Red Hunting Coat known as Hunting Pinks. President of the United States Combined Training Association or USCTA from 1971 to 1982, he is a legendary sportsman in the development of Eventing in America and is credited with the sports' success in the 1970s and 1980s.