Fourth of July
Modest bungalow house is decorated with American flag on the Fourth of July or Independence Day holiday in Duquesne Heights working class neighborhood of Pittsburgh, Pennsylvania. The circa 1960 car with tail fin in foreground is a Chrysler sedan automobile with tailfins introduced in the 1950s. The house is on Edith Street in the residential Duquesne Heights neighborhood and home to many working class families. Man on steps is house owner and retired blue collar worker.
Joe Szarc's Barber Shop
Barber Joe Szarc cutting a man's hair at the Szarc Barber Shop in the Braddock neighborhood of Pittsburgh, Pennsylvania on September 8, 1990. Mr. Szarc is over 70 years old and still giving haircuts and shaves, mostly to other older men who are retired from working in the steel mills. Many geriatric people still take pride in personal grooming despite age. The barbershop was started by Mr. Szarc's father.
Clayton House
Portrait of Adelaide Howard Childs who married industrialist tycoon Henry Clay Frick in Pittsburgh in 1889. The belle époque picture in gilded frame is at Clayton House, the Frick mansion in Pittsburgh.
Administrative Assistant

A female office worker, administrative assistant, or secretary at her desk in the office of Buchanan & Ingersoll, attorneys in Pittsburgh. The office is in the USX Steel Building. File folders fill steel filing cabinets behind her.
Meat Outlet
Front a butcher shop grocery in Pittsburgh covered with advertising signs with price for meat. Anderson Meat & Poultry Store on Penn Avenue on The Strip, a popular street for groceries and other retail shops. The shop uses orange posters to advertise their meat prices.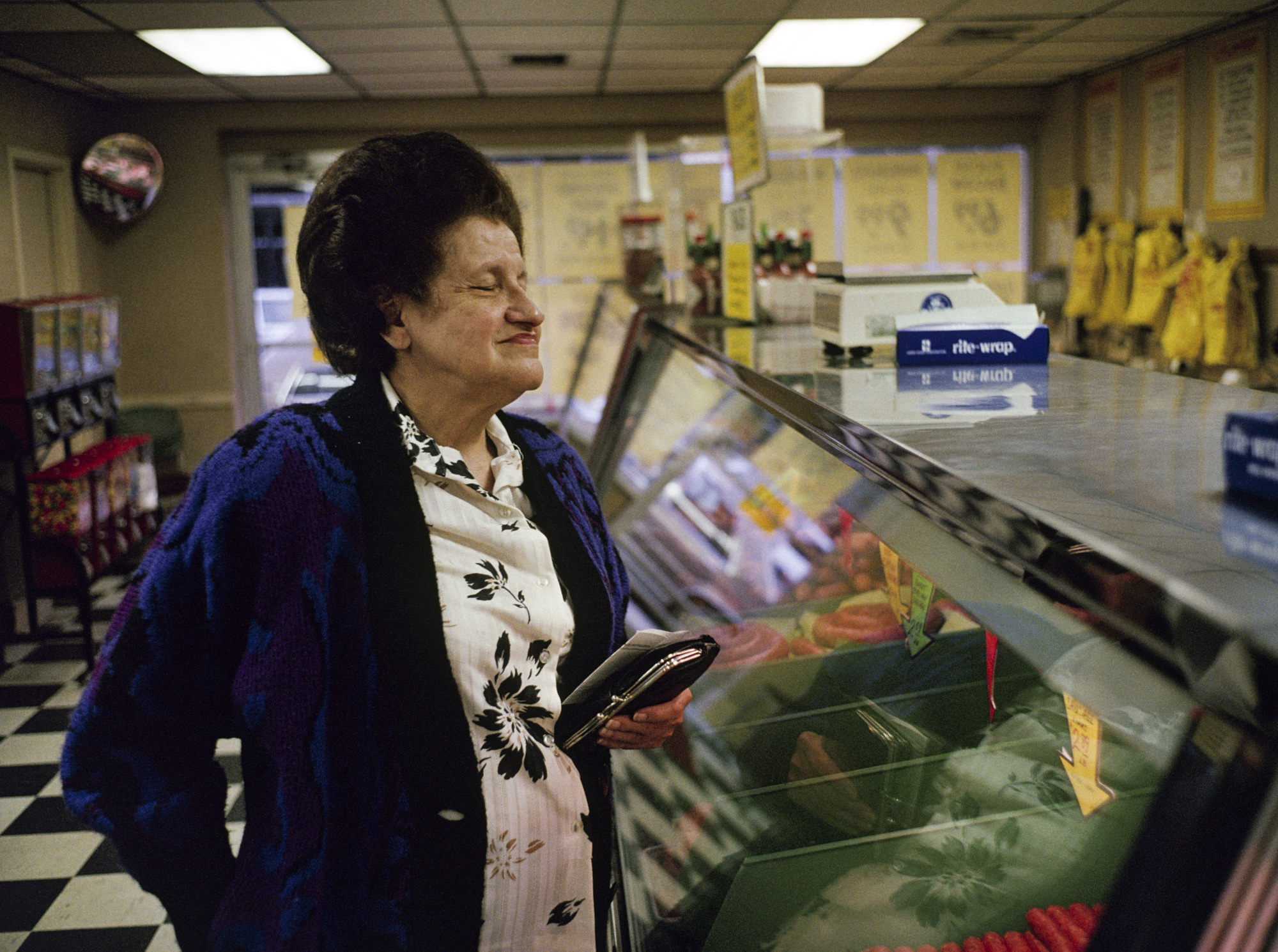 Saturday morning shopping
Shopping at a butcher shop on a Saturday morning, Pittsburgh mayor Sophie Masloff. The shop is in The Strip District, with many grocers and markets. Born in 1917 to Jewish parents, Mayor Masloff was Pittsburgh's only female mayor. She began her career as a civil servant at 18 yr. old, and elected to city council in 1976. The popular American politician became mayor in 1988 and served until 1993.
Fred "Mr. Rogers"
Television personality Fred McFeely Rogers aka Mr. Rogers relaxes on a bed in his son's house in Pittsburgh. Mr. Roger's Neighborhood was a popular children's television show that originated at station WQED, a public television station. He was also a television host, educator, Presbyterian minister, and songwriter. Born in 1928 and died in 2003, he was famous for his gentle demeanor and compassion. He was awarded many degrees and awards and was an effective advocate for government funding of PBS.
Wrapped Shakespeare
Statue of Shakespeare is wrapped in protective blue tarpaulin at entrance to Carnegie Music Hall in Pittsburgh. The canvas covering conceals the bronze sculpture during cleaning of the stone exterior.